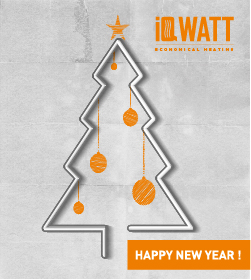 January 1, 2015 is launch day for our company.
01.01.2015
We are proud and pleased to bring you new IQ products on the first day in 2015! Cheers!
Our company invites you to turn over a new leaf, just as nature does, and add comfort and value to your home with improved indoor heating and indoor or outdoor pipe freeze protection.
Start a new chapter in your life. Resolve to bring a hint of spring to your home, all winter long.
Every year is a new beginning. Our dedication is to your comfort, as well as our own. Come home, out of the cold, with improved and more comfortable heating and assured IQPIPE freeze protection. Make a mark for a better life in the 'blank slate' of 2015.